From Dec 1 the famous Amsterdam magic mushroom will no longer be on sale in the city. The hallucinogenic mushrooms, imported mainly from Hawaii, Mexico and Ecuador, have for years been freely available, at modest prices, in shops around the city.
Neatly packed and labelled in display cases beside regular goods like vegetables and milk, and often packed in souvenir gift wrapping, the mushrooms have been popular among mainly German, French and British tourists.
Shop owners have claimed the ban will result in hundreds of jobs being lost and are planning protest marches.
While the dried variety, which provides even stronger hallucinations, is already illegal, the decision to ban fresh magic - or psilocybin - mushrooms was taken after a 17-year-old French girl jumped to her death from one of Amsterdam's canal bridges in March after taking them.
Amsterdam city council supports the government's ban, hoping it will change the general perception of the city as a mecca for drug user and the sex industry.
Earlier this year moves were made to close down part of the city's famous red light district.
But Paul Van den Berg, who works in one of the shops that sells the mushrooms, described that ban as "a disgrace".
He said: "It's all the fault of tourists, especially the Brits. They misuse alcohol at home and come over here to do the same with hash and the so called 'magic mushrooms'."
He said that the mushrooms were intended for connoisseurs who know how to eat them properly and in the correct quantity, producing a euphoric state with the odd "pleasant hallucination".
But a city councillor said: "Despite Amsterdam having the world's most important collection of Rembrandts and Van Gogh and being home to the famous Concertgeboug Orchestra, the City is still perceived as a place where you go to buy drugs."
The Netherlands agreed legislation in July to ban cigarette smoking in bars and restaurants. However the euphemistically labelled "coffee shops" where soft drugs can be selected from a menu remain open and smokers can puff on a roll-up of marijuana on the premises, provided tobacco is not used.
Dutch tourist organisations insist that windmills, tulips and Rembrandt remain the major draw for tourists.
A Dutch magic mushroom customer said: "Sunday lunch just won't be the same. I always used the mushrooms in my stew for friends. They produce a nice relaxing glow, much better than alcohol".
Above, typical Dutch mushroom store
~~~~~~~~~~~~~~~~~~~~~~~~~~~~~~~~~~~~~~~~~~~~~
Dutch Marijuana Smoker Fined......For Using Tobacco.
While the Netherlands has kept its liberal policy on the smoking of cannabis in the country's legendary "coffee shops", zero tolerance is now shown to tobacco smokers in Dutch cafes and restaurants after a smoking came ban came into force last July.
An Amsterdam police spokesman admitted that it could be difficult to understand the current Dutch policy of allowing smokers to puff away on pure cannabis while fining tobacco users.
"For logic it is sometimes impossible to explain, even to the Dutch," he said.
"The man was not fined for smoking a cannabis joint but for smoking. You can smoke cannabis but not tobacco in coffee shops."
The unnamed 27-year-old man owns one of the city's coffee shops, where the purchase and smoking of cannabis is tolerated, and he is expected to contest the case in court.
It will be the first test of a Dutch smoking ban that exempts people from enjoying joints as long as only pure marijuana is used.
The man was caught lighting a hand rolled cannabis joint during a routine police check and fined because officers found tobacco mixed with the soft drug.
The smoking ban is usually enforced by municipal health and safety inspectors "but if a police officer signals an infringement, he does not close his eyes to it," said the police spokesman.
A fifth of Dutch cafes and bars are ignoring the tobacco smoking ban, which was introduced on July 1. Many are setting up special funds to collect money to pay fines issued to smokers.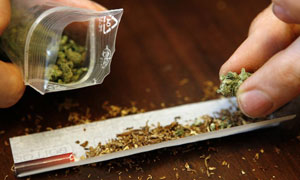 Above, Dutch cannabis joint ½ weed, ½ tobacco, semi-legal ?
~~~~~~~~~~~~~~~~~~~~~~~~~~~~~~~~~~~~~~~~~~~~~~~~~~~